Subaru / Mitsubishi – HKS Hybrid Sports 68mm Oil Filter (84212300)
£16.00
SKU: 4976
Manufacturer Part Number: 52009-AK001 | 52009-AK005
TYPE 1
*Suits Subaru & Mitsubishi, all models.
Description
Manufacturer Part Number:  52009-AK001 | 52009-AK005
*Suits both Subaru & Mitsubishi
*HKS Oil Filters can fit multiple makes and models so if unsure please email us with your vehicle details to confirm fitments.
---
Hybrid Sports Oil Filter
A new concept oil filter which improves oil pressure drop and flow properties by approximately 30% compared to current sports oil filters. Large diameter of "Super Intake Hole" and newly developed low resistance hybrid filter allow low pressure loss. Engine response is alos improved by reducing the stress on the engine.
Most sports oil filters are prerequisite for using the high viscosity oil and therefore filter paper strength is prioritized whilst sacrificing absolute pressure loss properties. HKS Hybrid Sports Oil Filter has readdressed filter strength and overall structure to provide the oil flow that the engine requires and pursue HKS' ideals in what is required from a sports oil filter.
---
Composition
In the interest of general versatility, unit size has been standardized at φ68x65mm. Fitment bolt sizes are M20-1. 5P and 3/4-16 UNF. Filtration performance JIS standard is 25μ whereas HKS is 20μ making the filter compatible with most standard engine requirements.
Filter Life
Under normal usage, it is recommended that the filter is changed in every 10,000km or 6 months. For Sports driving, the recommended distance is approximately 1/3 – 1/2 of the previously mentioned figure (as the engine revolutions are several times that of normal driving). However, to maintain optimum low pressure loss properties, it is recommended to change the filter every 3000km when an oil change is performed.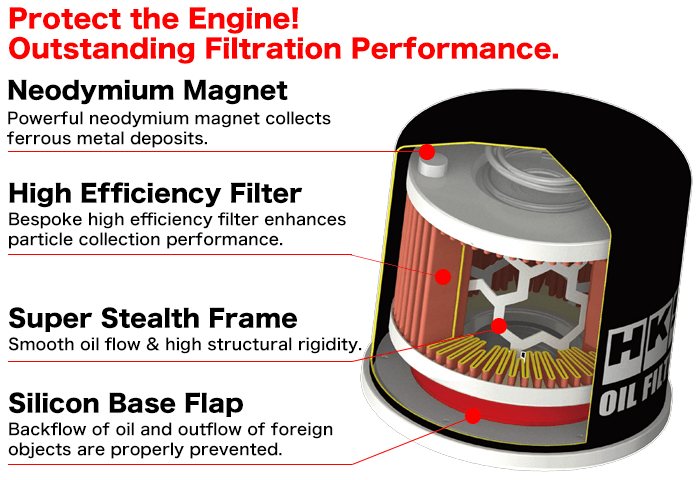 Additional information
| | |
| --- | --- |
| Weight | 0.9 kg |
| Make | |
| Brand | |
| Condition | |